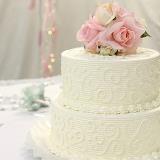 Something Olde, Something New, Something Borrowed, Something Blue, A Sixpence in your Shoe...
Do you know how some Wedding Traditions came to be?
Click here to find out more!
Most Brides know about the typical wedding traditions but do you know where those traditions come from? Most weddings follow the same format: brides wear white, the wedding guests throw rice, the first dance, the cake cutting....before you plan your wedding, find out more about how these popular wedding traditions became so popular.
The Cake: It was said that the grooms used to take a bite of bread and then essentially crumble the rest of it over their bride's heads. The guests would then scramble around her feet trying to pick up the crumbs as they fell to the floor because it was good luck. Brides would then pass small pieces of the cake through her ring to the wedding guests, which was also for luck. This eventually turned into guests saving the piece of cake they were given to be placed under their pillows, again, for luck. These days the cake just gets eaten!